If you would like to read and compose email using Microsoft Outlook, follow these steps to configure your email.
Note: if you attempt to log in using incorrect credentials, our system will lock you out after five attempts.  This will mean that you will no longer be able to see any website or application hosted by our company.  If this happens, please send us an email and we will unlock your account.
Note: These instructions include screenshots from Microsoft Outlook 2010, but are nearly identical for all versions of Microsoft Outlook from 2003 onwards.
In Outlook, click File and then click "Add Account"
2. You may see a screen like the one below.  Click on "New"
3. Click "Manually configure server settings or additional server types"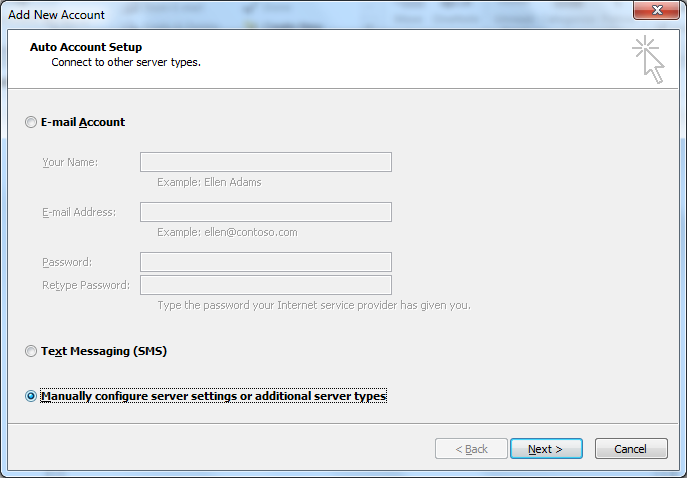 4. Click "Internet email"
5. Fill in the settings on the page as described below:
Your Name: type your first and last name as you want it displayed in the inboxes of the people you email.
Email Address: type your full Strategic Consulting Group Inc. provided email address
Account Type: select IMAP
Incoming mail server: server.strategicconsultinggroup.ca
Outgoing mail server: server.strategicconsultinggroup.ca
Username: type your full Strategic Consulting Group Inc. provided email address
Password: type your password as provided by your organization administrator.
6. Click "More Settings"
7. Click "Outgoing Server" and then checkmark "My outgoing server (SMTP) requires authentication"
8. Click "Advanced" and change the Server Port Numbers settings to match what is shown below
Incoming server: 993
Encryption: SSL
Outgoing server: 465
Encryption: SSL
9. Click OK
10. Click "Next".  An account test window will appear which will verify your connection and confirm that you can send email.
11. Once you receive conformation that all is good, click "Next"
12. Click Finish.  Your email will load.  It may take a few minutes for copies of all your messages to download from the server.